China Central Place in Beijing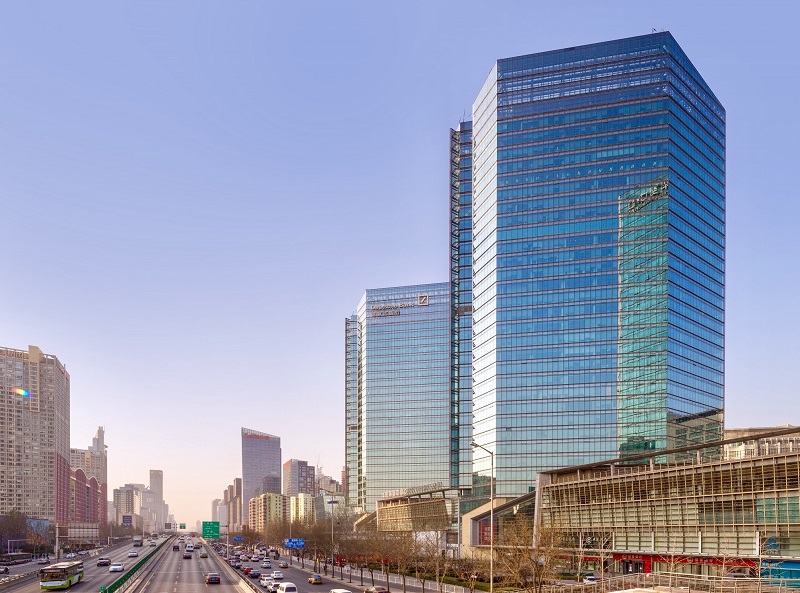 Highlights
Quality assets: Among the most highly regarded Premium Grade office properties in Beijing.
Prime location: Located in Beijing CBD, the city's largest hub for international businesses, with direct access to two subway lines.
Quality tenants: Favoured by industry-leading domestic and international tenants, including Deutsche Bank, Condé Nast, EPSON, NBA, Richemont, Pandora Jewelry, Johnson & Johnson Group, and many others.
High level of occupancy with positive rental reversion: Net passing rent increased at 7.6% CAGR from 2013 - 1H 2017 while maintaining high occupancy of above 94% throughout the same period.
Spring REIT currently owns all the office floors of Office Tower 1 (including office floors 4 to 28) and Office Tower 2 (including office floors 4 to 32) in China Central Place, Beijing, as well as a total of approximately 600 car parking spaces located in the underground levels of the two office buildings (the "CCP Properties"). The CCP Properties were developed by Beijing Guohua Real Estate Co., Ltd. in 2006.
The office towers at China Central Place are among the most highly regarded Premium Grade office properties in Beijing. According to a market report of DTZ Consulting in March 2013, only ten office properties in Beijing' s Central Business District (CBD) are Premium Grade, representing the highest quality standards of any office building. Premium Grade is also known as International Grade A office or Prime office buildings by other real estate consulting firms.
The CCP Properties are strategically located in the southeast corner of Beijing' s traditional CBD and the central core area of the expanded CBD, a traditional hub for international business and activities, as well as home to the Asia or China headquarters of many Fortune 500 companies and multi-national corporations. Located approximately 7 km away from Tian' anmen Square and 20 km away from the Beijing Capital International Airport, the CCP Properties enjoys convenient accessibility with direct access to Subway Line 1 and Subway Line 14 through underground walkway. The CCP Properties also have an exit on Chang' an Avenue/Jianguo Road, the main east-west artery of Beijing. The strategic location of the CCP Properties allows tenants and visitors to avoid heavy traffic congestion in the center of the traditional CBD.
The REIT Manager believes that the design and facilities of the CCP Properties are among the highest quality of any office building in Beijing. In recognition of its excellent construction and engineering, the CCP Properties, together with Office Tower 3 at China Central Place, has won numerous awards, including Top 20 Office Buildings in China presented jointly by www.funxun.com, China Office Building Industry Association and Nanfeng Think Tank in 2012; Model Business Service Building in Beijing by Beijing Municipal Commission of Commerce in 2012; and National Construction Decoration Design Award by China Building Decoration Association in 2008.
The CCP Properties form part of China Central Place, a prime mixed-use development complex in Beijing. China Central Place complex comprises:
Three Premium Grade office buildings(Spring REIT owns Tower 1 & Tower 2;
SKP Beijing, one of the largest department stores in China by sales, and other shopping areas in China Central Mall, China Central Square and China Central Commercial Street;
Two five-star luxury hotels, The Ritz-Carlton Hotel Beijing and JW Marriott Hotel Beijing; and
Residential and serviced apartment buildings and a clubhouse.
The four components of China Central Place form a community with comprehensive facilities and services, which significantly enhance the business activities and daily life of its office tenants. The CCP Properties of Spring REIT are poised to benefit from the synergies between these four components of China Central Place and its prestigious status, which ultimately reinforces the positioning of the CCP Properties as a leading Premium Grade office development in Beijing' s CBD and helps to promote the business of the CCP Properties.
Property
Office Tower 1 and Office Tower 2 of China Central Place
Completion date
December 2006
Location
Southeast corner of Beijing' s traditional CBD and central core area of the expanded CBD
Usage
Premium Grade office buildings
GFA
Office space: 120,245 sq.m.
Car parking spaces: 25,127 sq.m.